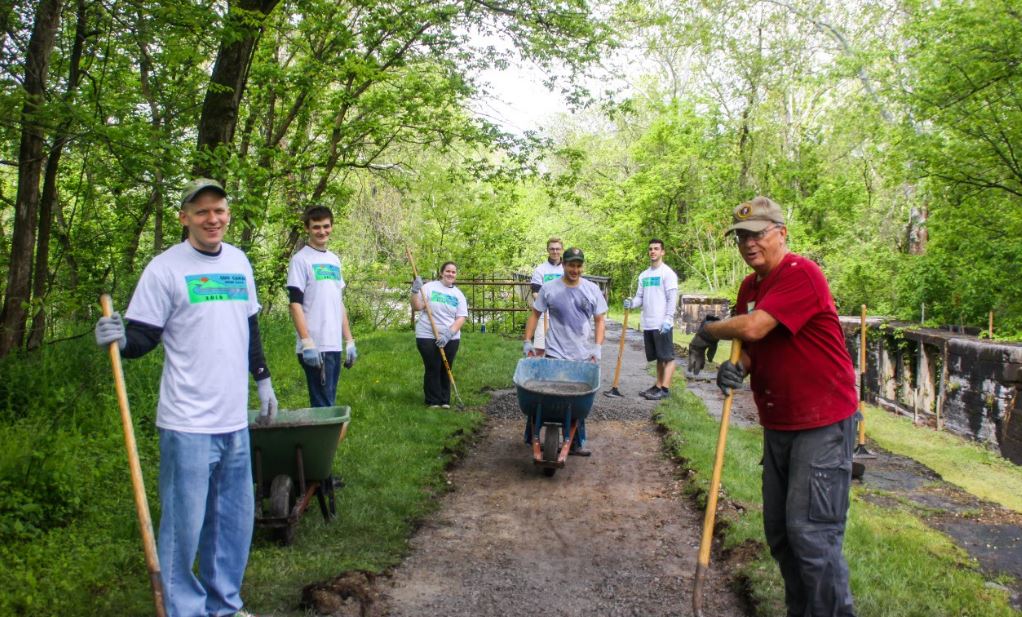 The C&O Canal Trust's Canal Pride Days events bring hundreds of volunteers to the Park to perform maintenance and preservation tasks aimed at readying the Park for the busy season.
Last year, Canal Pride Days kicked off on April 27 at Paw Paw, where over 30 volunteers came out to work on several projects, including adding stone dust to the Paw Paw Tunnel, beautifying 11 campsites, and filling in potholes.
The following week, on May 4, over 80 volunteers converged on Great Falls. Volunteers worked on repainting the mule shed, painting picnic tables, cleaning the fee booth area, and spreading over 40 cubic yards of mulch. Volunteers from the Friends of the Historic Great Falls Tavern worked on cleaning the tavern and the Charles F. Mercer canal boat.
The final event was held on May 18 at Cushwa Basin in Williamsport with 56 volunteers picking up trash, cleaning exhibits in the trolley barn, and planting native plants in front of Lockhouse 44.
This year, our 13th annual Canal Pride Days events have been postponed due to COVID-19. When stay-at-home restrictions lift, we will be ready to hit the ground running with our Canal Pride activities, working in small teams to beautify the Park and return it to its pre-COVID levels of maintenance.
However, there are several ways you can safely show your Canal Pride by caring for the environment in your own neighborhood. Take a walk outside if you are able to and pick up trash along the way. If you feel comfortable doing so, you can also pick up any pet waste that you see to prevent it from ending up in waterways.
Another way to show your pride is in your own backyard! Cultivate native plants in your garden and help them thrive by removing any invasive plant species. Native plants provide forage for pollinators like butterflies and honeybees and support greater biodiversity than invasives. For resources on native and invasive plants, visit the Maryland Native Plant Society and the Maryland Invasive Species Council.
Additionally, the Park's volunteer office has put together some resources for staying engaged:
City Nature Challenge – creating an inventory of the flora and fauna in your own communities through iNaturalist. For more information, please visit: https://citynaturechallenge.org/
Zooniverse – virtual citizen science projects for almost any interest. https://www.zooniverse.org/
Smithsonian citizen science projects:  https://www.si.edu/volunteer/citizenscience
Maryland Department of Natural Resources projects: https://dnr.maryland.gov/Pages/Community_Science_Resources.aspx
Chesapeake Monitoring Cooperative – supports local organizations in water quality monitoring efforts and provides opportunities for people and organizations to get involved. For more information and a list of partnering organizations offering citizen science projects, please read on here.
Stay engaged with the C&O Canal National Historical Park and the C&O Canal Trust through social media! Follow the Park on Facebook and Instagram, and follow the Trust on Facebook and Instagram for COVID-19 updates, information about the Park, and cool photos. Finally, you can also show your Canal Pride by supporting the Canal Towns! Read about three ways you can do this here.
We look forward to welcoming all of our Canal Pride volunteers back to the park soon, but until then, stay safe and healthy!