The Conservation Jobs Corps (CJC) is a new program built off the successful Maryland Conservation Corps (MCC). After years of seeing the benefits that MCC provides to young adults and the natural resources they protect and restore, the Maryland Department of Natural Resources expanded the program to include a younger age group. By partnering with community organizations, teens and young adults are able to work alongside natural resource staff to conserve Maryland's natural landscapes.
The C&O Canal Trust, in partnership with Montgomery County Recreation's TeenWorks, was able to utilize this program this summer to complete some necessary park maintenance. With the Park staff spread thin over the 184.5 mile-long park, extra hands can be helpful to complete projects and keep the Park grounds safe for visitors. The students were exposed to many different situations during the three months they worked at the Park, the most memorable of which was the flooding at Great Falls in July. While this was not a scheduled work task, it created an excellent learning opportunity. Ben Bender, CJC Coordinator for the Trust, taught them about why the flooding took place and how it can impact an ecosystem.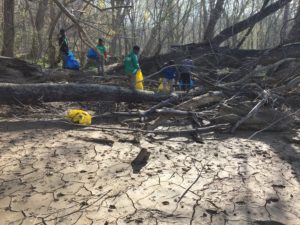 He explained that with major rain events, like the one that had occurred the previous night, runoff from impervious surfaces, like parking lots and paved roads, quickly fill and overflow streams. This deluge of water erodes the banks and brings down trees caught in the rushing water. Logs and branches clog drainage tunnels, along with debris such as trash and mud. When these tunnels become blocked, water and debris spill over and run downhill towards a larger body of water. In this case, the flooding occurred over the Great Falls Tavern parking lot as it rushed towards the Potomac River. The CJC crew was tasked with safely clearing the blockages to allow water to drain, removing the layer of mud that had accumulated on the hard surfaces and cleaning up trash that had washed into the area. Although this project may not have been the most exciting one they had a chance to work on, being able to learn about this process hands -on made an impact on at least one student. At their graduation ceremony, one student mentioned that although the work was difficult, this was her favorite project of the summer.
Besides making great strides on projects that benefit the Park, such as flood debris cleanup, graffiti removal, and vegetation removal, the CJC crews are exposed to Maryland's natural resources and the program allowed them to explore the numerous career opportunities available to them within the National Park Service, and more widely, the field of natural resources. Most importantly, however, the crew was shown the beauty and importance of our natural landscapes and they were introduced to recreation, as well as career opportunities the National Park Service has to offer.