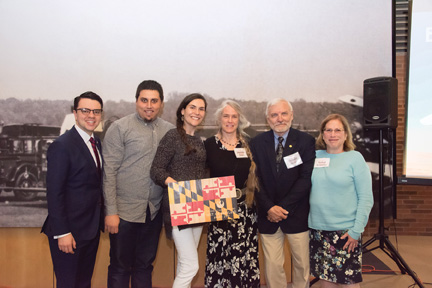 The volunteer Quartermasters responsible for the day-to-day maintenance of the C&O Canal Trust's Canal Quarters lockhouses have been honored with the Harrison Award for Volunteers at Preservation Maryland's Best of Maryland Preservation Awards Ceremony.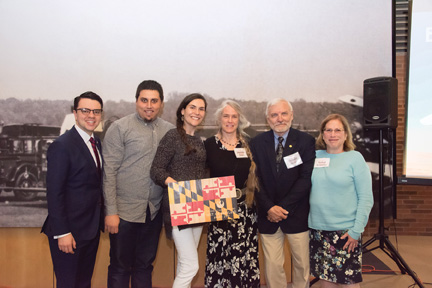 The event, which took place in May, 2017, "honors the people, projects, and places that make Maryland great."
Over 35 volunteer Quartermasters have provided over 15,000 hours of service to the award-winning Canal Quarters program, which wouldn't be able to operate without volunteer support. The program, a partnership between the C&O Canal Trust and the C&O Canal National Historical Park, rehabilitates historic lockhouses along the canal, furnishes them with period pieces, and makes them available to visitors for overnight stays. There are currently six Canal Quarters lockhouses, with a seventh in progress, and each one is designed to reflect a different time period of canal history.
The Quartermasters are the eyes and ears of this program, regularly inspecting the lockhouses, performing needed maintenance, and assisting overnight guests to ensure they have a great experience. Without the Quartermasters' dedication and hard work, the program would not be successful.
"Our Quartermasters are today's "Lockkeepers", vigilantly caring for the buildings as if they were their own," Director of Programs and Partnerships Becky Curtis stated. "Without their careful watch and loving care for the lockhouses (and our visitors!), the Canal Quarters program simply would not be possible."
The current roster of Quartermasters includes the following volunteers:
Linda Bergofsky
Les Bland
Paul Buscemi
Sarah Butt
Marcia Carlson
Bud Cline
Dell Pillers/Cline
Zachary Fenhaus
John Gelb
Susan Gelb
Kerrington Gray
Leslie Gruis
Jennifer Hearn
Davey Hearn
Larry Heflin
Robert Kaiser
John Kolm
William "Bill" Kraegel
Lisa Landsman
David Mosebrook
Brad Northrup
Ed Rhodes
Chuck Rieger
Linda Rieger
Hugh Robinson
Mark Sauer
Tim Shank
John Sparrow
Don Street
Joe Sufczynski
Bob Walsh
Hilary Walsh
Judy Welles
Jeff White
We are always looking for dedicated and hardworking individuals to join the Quartermasters team! If you have a passion for preservation and a love of the C&O Canal, consider becoming involved. Visit our volunteer page at https://www.canaltrust.org/programs/canal-quarters/quartermasters/become-quartermaster/ for more information.