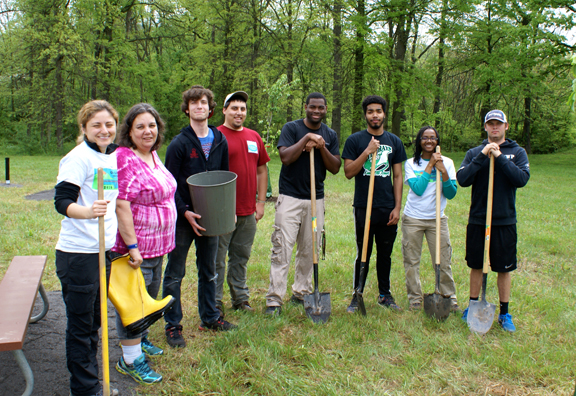 The C&O Canal Trust will launch a new diversity outreach initiative this spring aimed at increasing Latino and African American participation in Trust programs.
Initially a two-year pilot program in Montgomery County, "Canal For All" seeks to lay the foundation for a sustainable and robust engagement between the Trust and African-American and Latino communities in all five local jurisdictions that border the C&O Canal National Historical Park – Montgomery, Frederick, Washington, and Allegany Counties in Maryland and the District of Columbia – as well as in northern Virginia and West Virginia. This initiative furthers the Trust's work with the C&O Canal National Historical Park (NHP) to recruit and develop new canal stewards representative of the demographics of the region, who will care for this important natural resource now and into the future.
The goals of "Canal For All" are to develop the strong community partnerships necessary for the C&O Canal Trust to engage with and foster participation by new audiences along its full 184.5 mile length, to make Park programs inclusive and welcoming to diverse audiences, and to increase the Park's visitor population to better reflect the changing demographics of our region.
The initial two-year pilot phase will be funded by a $30,000 grant from the National Environmental Education Foundation, in partnership with the Kendeda Fund. During this phase, the Trust will work with the Office of the Montgomery County Executive to identify and build lasting relationships with African-American and Latino community leaders and organizations who can assist in overcoming obstacles for program engagement and providing a pipeline of program participants through well-established organizations.
Plans so far include partnering with organizations on Canal Pride activities, hosting events in Canal Quarters lockhouses, and translating Trust materials into Spanish. Funds will also be used for staff diversity training and to cover the salary of an intern to help implement the initiative.
"The parks are here for the people, and this project expands the community of constituents who care about the canal and will be its stewards into the next century," C&O Canal Trust Director of Programs and Partnerships Becky Curtis said.
By expanding its programming to new communities, the C&O Canal Trust will also be in a better position to attract new funding and sustaining partnerships that will strengthen the organization and allow us to make all programs more inclusive.