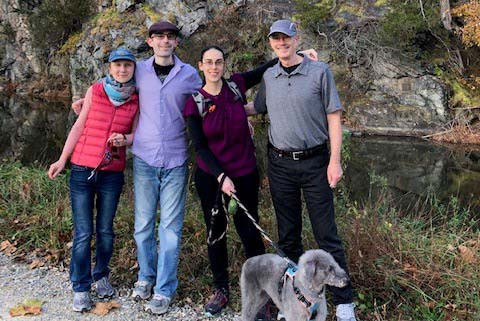 To celebrate the 50th anniversary of the C&O Canal becoming a National Historical Park, we are featuring 50 Canal Stories throughout 2021. Each story will take a look at a person's relationship with the C&O Canal. Whether an NPS ranger, a volunteer, or a visitor, everyone has a story to tell about the canal! If you want to share your story, submit it to us at the link here, email it to us at [email protected] or post it on your social media feeds with the hashtag #MyCanalStory.
Bruce Rosenblum, Frequent Canal Visitor
C&O  Canal Trust: Tell us your C&O Canal story!
Bruce: During the summer of 2020, I cleared my head and some got exercise by going for a brisk walk along the canal most mornings, as early as possible (usually starting by 6 a.m.) While I have travelled the canal by bike and foot for many years, being there regularly and at a time when there was not too much other "human activity," I saw many things I had not noticed before–river otters building a den and traversing the space between canal and river; a great blue heron catching a frog for "breakfast"; two owls singing a "duet". I wrote a song for my grandson (age 5) about the canal, and on a late August trip to visit him (my only sojourn away from the house in the last 10 months) had a chance to sing it with him and add a verse he wrote about his experiences with nature walking on Cape Cod. A version of the song is posted to You Tube, complete with photographic "illustrations" from some of my canal walks and you can view it here.
C&O Canal Trust: What is your relationship with the C&O Canal?
Bruce: I have visited the canal for many years, either as part of my bike routes or on foot.  Walking, biking and watching the views/wildlife are my favorite things to do there.  
 C&O Canal Trust: Do you have a favorite canal memory?
Bruce: I have many fond memories of being on the canal, but it has been extra special during the last 10 months to be able to access this natural beauty so close to home when travel is difficult to impossible.
C&O Canal Trust: What is your favorite spot on the canal?
Bruce: My walks center on the segment between Swains Lock and Seneca Lock (Swains Lock is 4-5 miles from my house), which has beautiful views and a fair amount of wildlife.  I have been on the path from the start in Georgetown to Edwards Ferry, and there are a lot of beautiful and varied spots along that (circa 30 mile?) section–but that also means I haven't even seen most of the canal yet!