It's the 10th anniversary of the Canal Pride Program!
Do you take pride in your neighborhood National Park, the C&O Canal? Show it off by volunteering for a day of restoration, revitalization, and fun during one of the Canal Trust's Canal Pride days!
Our Great Falls Canal Pride event scheduled for Saturday, May 13 has been cancelled due to forecasted rain and has been rescheduled for Saturday, June 10. Please sign up below!
Great Falls: Saturday, June 10, 2017, 9 a.m. – 12 p.m.
Become a Canal Pride Steward or Sponsor
We have two opportunities for corporations to get involved in Canal Pride:
Become a Sponsor: We depend on our Canal Pride corporate sponsors who, as community leaders, step up to cover the expenses associated with the volunteer projects that make such a difference in our Park. Those expenses include supplies and equipment as well as the salary for a volunteer coordinator intern who provides much needed assistance and is given the opportunity to develop valuable real world leadership and organizational skills. In appreciation for your sponsorship, we offer a range of recognition opportunities. Download the information sheet here.
Host your own Canal Pride event and become a Steward: You can choose a date and a location along the Canal for your own Canal Pride event. Bring your employees out for a team-building experience as a way to give back to the community. Download the information sheet here.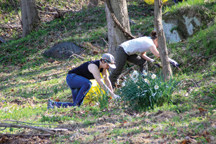 Other Ways to Show Your Canal Pride
Thank you to our
2017 Canal Pride Sponsors!