Groundbreaking Ceremony
President John Quincy Adams remembered this event as the greatest moment of his life. Here, on the upper end of Patowmack Company's skirting canal above Little Falls, President Adams broke ground on the C&O Canal.
The date was July 4, 1828—Independence Day. The Canal Board and official guests had breakfast in Georgetown and then boated up the Potomac five miles to the groundbreaking site. Following several short speeches, President Adams attempted to dig the first shovel of dirt, only to hit roots and then rock. Not to be denied, the usually rigid chief executive removed his jacket, rolled up his sleeves and tried again. The holiday crowd cheered.
The day was a huge success—with far bigger fanfare than the groundbreaking for the B&O Railroad that was being held in Baltimore on the very same day. Ironically, it was the railroad that beat the Canal to the Cumberland coalfields and then extended its reach to the Ohio River. The Canal was never completed beyond Cumberland.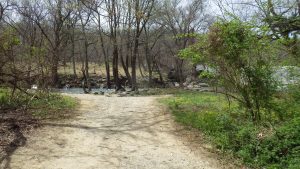 Photo by: Jennifer Hearn
Nearby Amenities:
Not available for this POI.
Nearby Points of Interest:
Not available for this POI.
Nearby Events: