Dargan Bend Recreation Area
This is a great river access point for boaters above the dam and rapids of Harpers Ferry.
The recreation area includes a boat ramp, picnic tables, toilets and parking for 25 vehicles. No camping is permitted. Access is from Shinham Road.
About a quarter mile upstream on the Canal, you'll find well-preserved limestone kilns. Heating limestone enriched soil for farmers, removed impurities from ore, and helped to make hydraulic cement used in canal structures. Although the Canal ceased operations in the 1920s, these kilns operated by O.J. Shinham were burning limestone through the 1960s. Evidence of the locally mined limestone, including a 50-foot deep cave, is nearby.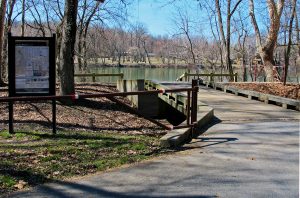 Photo by: Bud and Dell Cline
Nearby Amenities:
Not available for this POI.
Nearby Points of Interest:
Not available for this POI.
Nearby Events:
Social Media Share: