The C&O Canal Trust is excited to participate in the 1st annual LocktoberfestDC. As part of this event, the Trust will provide tours of Lockhouse 6. We hope you'll join us for this unique opportunity to see and learn more about Lockhouse 6.
When:   Saturday, October 14, 2023, 12-2 p.m.
Where:  Lockhouse 6, Towpath mile 5.4, Bethesda, MD
Lockhouse 6 is located near Brookmont and Cabin John, with easy access to Georgetown, the feeder canal, and the Capital Crescent Trail. It is surrounded by mature sycamores and is a full amenities lockhouse that interprets the 1950s. During that time, the C&O Canal was no longer operational, and Justice William O. Douglas led his famous hike to preserve the Canal and keep it from being turned into a parkway.
Lockhouse 6 is part of the Canal Quarters interpretive program, managed by the C&O Canal Trust, which provides the opportunity for visitors to spend the night in a historic lockhouse. All proceeds from the Canal Quarters program go toward maintaining these historic structures and refurbishing more lockhouses for this program in the future.
Please note: Lockhouse tours are free of charge and open to the public. Parking is not available at Lockhouse 6. Food and drink will be available at the lockhouse.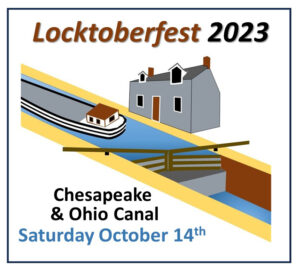 LocktoberfestDC is a series of free volunteer-guided walks, hikes, and bike rides celebrating 19th-century Washington D.C., canals, locks, canal boats, and lockkeeper houses – and the people who built and used them.