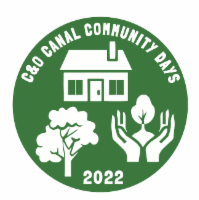 The C&O Canal Trust is conducting its annual t-shirt artwork contest to find a logo that will represent our 2023 Canal Community Days events. Artists are invited to create and submit artwork that celebrates these annual volunteer events, bringing community members together to beautify the C&O Canal National Historical Park (NHP).  The winning design will be printed on our Canal Community Days t-shirts and worn by volunteers as they work along the C&O Canal throughout the spring and summer.
About Canal Community Days
Canal Community Days is the C&O Canal Trust's annual public volunteer program. Each year, we recruit and manage hundreds of volunteers to undertake a range of preservation, beautification, maintenance, and conservation projects along the 184.5 mile length of the C&O Canal NHP, working closely with the National Park Service to identify priorities that can be completed by volunteers of all ages.
In 2022 over 640 volunteers removed 9,320 pounds of trash and 3,940 pounds of problem vegetation from the Park. Our dedicated volunteers help keep our Park safe, clean, and welcoming for nearly five million visitors each year.
T-shirt Logo Contest
Submission Deadline: March 1, 2023
Notification: March 8, 2023
The C&O Canal Trust invites artists of all ages to submit artwork that represents and celebrates the C&O Canal and Canal Community Days for the 2023 volunteer season.
Artwork Requirements
Submitted work must be the artist's original design.
Each design must include the words "C&O Canal Community Days" and the year "2023".
Designs should use no more than four colors. Artwork will be used on either grey or natural-colored shirts.
How To Enter
Entries should be submitted by March 1, 2023, to the C&O Canal Trust at

[email protected]

. with the subject "C&O Canal Trust T-shirt Artwork Contest 2023".

Please include your name, address, phone number, email address, and age (if 18 or under) with your entry. If you are under 18, please obtain permission from your parent or guardian before entering this contest.

Design files should be high quality and saved as a jpg with the artist's name included as follows: Lastname_Firstname.jpg.
Notification
C&O Canal Trust staff will review and select the winning entry. The winner will be notified via email by March 8, 2023.
The winner will receive a C&O Canal Trust prize pack that includes a one-night stay at one of our award-winning Canal Quarters lockhouses. The winner's artwork will be printed on our 2023 Canal Community Days t-shirts, and the winner will be provided with three shirts to keep.
Samples of Past Years' Artwork
Questions
Please email [email protected].