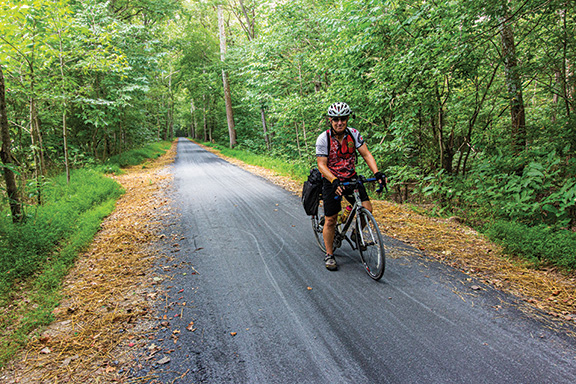 Folks walking and biking along the 42 miles of towpath between Edwards Ferry and Lock 38 (Shepherdstown Bridge) are enjoying a whole new experience – gone are the rocks, roots, and ruts, gone the erosion and washouts, gone the deep muddy wallows. Instead, a smooth, firm resurfaced towpath carries visitors safely and trouble-free along the C&O Canal. One delighted user described the new surface as "a revelation."
Following an engineering study done in 2016 with the assistance of the Allegheny Trail Alliance (ATA), the C&O Canal National Historical Park identified 80 miles of the towpath as urgently in need of rehabilitation. The Park will continue to repair and maintain other sections of the towpath, as needed.
The current towpath surface consists of gravel over clay, which holds water and is prone to muddiness when wet. The new sections are being surfaced with crushed stone dust. On a properly graded surface, this material does not retain water and hardens with use, making it less likely to erode and rut. It is also easier to maintain over time.
2019 marked the first year of the C&O Canal National Historical Park's multi-year project to comprehensively resurface the 80 miles identified as in most need of rehabilitation. With 42 miles completed so far, there are still 38 miles to go. This project is being funded by the State of Maryland's Transportation Alternative Program and the C&O Canal Trust. You can help keep the momentum going by making a donation to our Towpath Resurfacing Campaign.