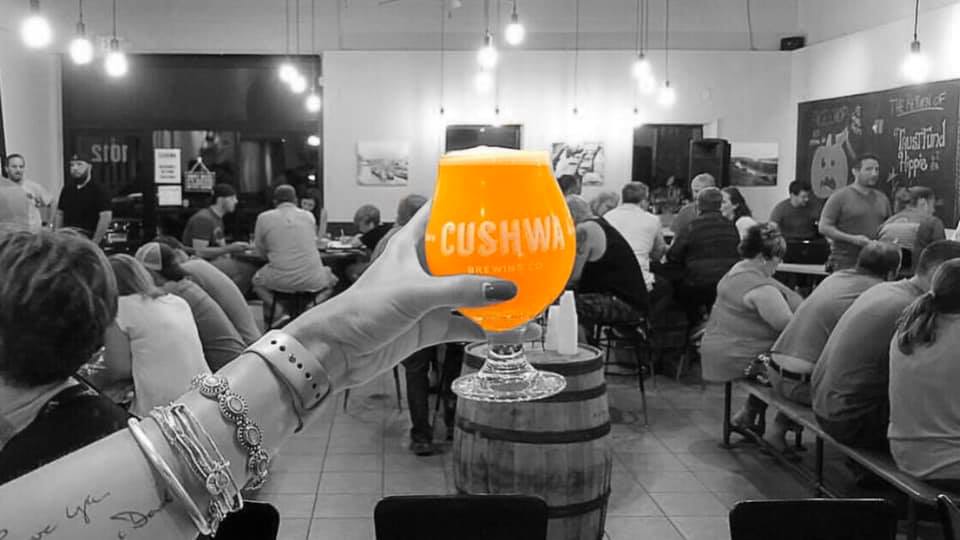 The first breweries near the canal opened in 2016 and two more have opened since then. Many outdoor enthusiasts know a hike or bike ride followed by a craft beer is one of the best combinations out there.
There are over 6,500 breweries in the United States and each one is unique. Breweries can highlight local ingredients, traditions, and history.
Smoketown Brewing Station – Brunswick, MD (Mile 55)
Facebook | Instagram | Website
Smoketown Brewing Station opened in 2016 in a former firehouse. The owner's father worked in the firehouse as a firefighter, and now his son works in the same firehouse as a brewer. Smoketown has a family-friendly patio environment and is open to outside food. Grab a slice of pizza from King's Pizza next door to enjoy with your beer. Smoketown hosts trivia and food trucks. Check their events page for more details.
Smoketown's creative beer names incorporate historical and local references. "The Patsy New England IPA" is for country star Patsy Cline who performed in the events space upstairs and at the Brunswick Lions Club, now the Brunswick Heritage Museum. "Berlin Brown Ale" references one of Brunswick's former names. "Lockhouse 28 Imperial Stout" is for the Lockhouse a few miles east on the towpath. Finally, "Walter's Spirit Porter" is named after a man who used to work in the fire hall. Staff and guests report having seen his ghost.
Harpers Ferry Brewing – Purcellville, VA (Mile 60)
This brewery is technically in Purcellville, VA, but it is only a 5-to-10-minute drive from lower town Harpers Ferry. Harpers Ferry Brewing opened in 2018 and is family and dog friendly. During the summer, enjoy "The Needle", named after a rapid on the Potomac River while you enjoy an amazing view and watch the rafters and tubers float down the Potomac River. Harpers Ferry Brewing often hosts live music, bingo nights, and food trucks. Check their Facebook page for more details.
Bavarian Brothers Brewing – Shepherdstown, WV (Mile 72)
Facebook | Instagram | Website
Bavarian Brothers Brewing opened in 2019 as part of the Bavarian Inn, a European boutique resort operating in Shepherdstown since 1977. Relax in their brewpub, brew lounge, or outdoor beer garden all overlooking the Potomac River. Enjoy an Appalachia Ale or a Sozial,Session Ale, the German word for socialize. You can also order meals and small bites.
Cushwa Brewing Company – Williamsport, MD (Mile 99)
Facebook | Instagram | Website
Opened in 2016, Cushwa Brewing Co. is a family- and dog-friendly brewery. They rotate food trucks weekly and host trivia, yoga, painting, and succulent planting events. Check their Facebook page for more details. Cushwa sells small bites, cans, and growlers to go. Their signature beer is the Cush, a fruity IPA. The Big Cush and the Cush with Wakatu are variations on the original.
Cushwa Brewing is named after the Cushwa Basin in Williamsport. The Cushwa Basin was a turning basin where boats could turn around. You can even see a canal boat in their logo and as part of the brewery's décor.
1812 Brewery – Cumberland (Mile 184.5)
Facebook | Instagram | Website
1812 Brewery is the first brewery in Allegany County, opened in 2017. It is located on Mason Road and is a 12-minute drive from the towpath in Cumberland. 1812 is a farm brewery located on 190 acres in a repurposed barn built in 1812. It has a taproom and outdoor patio, where dogs are allowed. They are family-friendly and offer light snacks and growlers.
They host live music, a craft and flea market, and private events. Check their Facebook page for more details. Some of their beers are historically named, including "Maddy's Golden Ale" and "Monroe's Ale" for Presidents James Madison and James Monroe, and "Ambush IPA" in reference to the Civil War history in the region.
The next time you're enjoying the C&O Canal top off your visit with a locally brewed beer.
—-
Brunswick, Harpers Ferry, Shepherdstown, and Williamsport are Canal Towns. Learn more about the Canal Towns Partnership here.