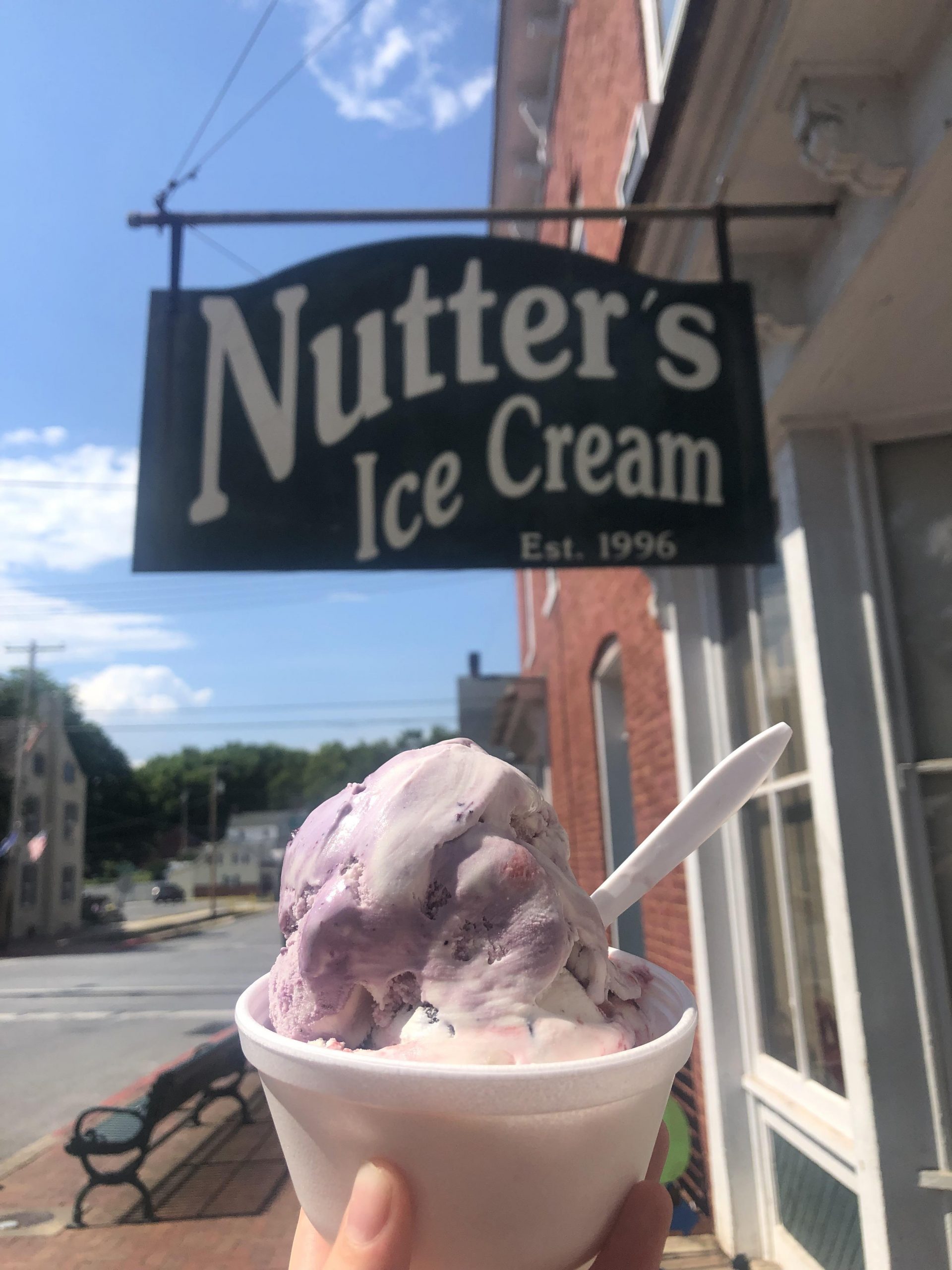 4323A Tuscarora Road, Tuscarora, MD 21790
Best for: Local dairy products
Serves: Rocky Point Farm Ice Cream
10-minute bike ride from the towpath
Rocky Point Creamery is a classic farm-to-cone style creamery located a little over a mile from the towpath in Point of Rocks. The creamery rotates over 80 flavors of ice cream weekly and offers specialty sundaes and shakes. Some recent flavors are butter pecan, crabby cow (old bay flavored), and strawberry limeade sorbet. You can make your visit to Rocky Point Creamery quick by using their one-of-a-kind ice cream drive-through, but you should stick around for their tractor-style playground, sunflower field in July and August, and events like food trucks and goat yoga. Weekly flavors and events are posted on their Facebook page.
12 South Maple Avenue, Brunswick, MD 21716
Best for: Most environmentally friendly
Serves: Ice Cream from Trickling Springs Creamery (Chambersburg, PA) and South Mountain Creamery (Frederick, MD)
3-minute walk from the towpath
Opened in June 2018, Towpath Creamery is the newest addition to the towpath ice cream trail. The creamery is a one-stop shop for almost anything you could need in terms of s'mores supplies, paperback books, first aid supplies, toiletries, and souvenirs. Ice cream flavors include blueberry pomegranate sorbet, raspberry swirl, and salted caramel. You can build you own cookie-wich (ice cream sandwich), get a pupcup for your dog, or try a specialty sundae like the Train Tax (chocolate ice cream, hot fudge, peanut butter cups, pieces, health pieces). The cherry on top to your visit might be that the utensils and ice cream cups are compostable, and the creamery provides a composting bin.
128 High St. Harpers Ferry, WV 25425
Best for: Great views
Serves: Hershey's Ice Cream
7-minute walk from the towpath
Potomac Street in Harpers Ferry has three walk-up ice cream spots: Creamy Creations, A La Mode Café, and Coffee Mill. If you want to beat the crowds and the heat, head around the corner to Cannonball Deli, where they have indoor and outdoor seating. Their eight flavors of ice cream include salty caramel and moose tracks. If you want to walk and eat, there are plenty of shops and museums to explore. A few feet away is the Appalachian Trail, which you can take to Jefferson Rock, or just say you've walked the width of the AT.  If you have a bike you don't want to carry through town, lock it at the bottom of the steps by the towpath, or on the other side of the bridge.
100 E. Main Street, Sharpsburg, MD 21782
Best for: Low prices for a large amount of ice cream
Serves: Ice Cream from Hood and Turkey Hill
12-minute bike ride from the towpath, a 3-minute drive from Antietam National Battlefield
Founded in 1996, Nutter's is the oldest creamery along the towpath and might be some of the most popular ice cream, with lines out the door on the weekends. Ice cream is not just a summer treat at Nutter's, who also offers seasonal flavors such as peppermint stick, pumpkin pie, and orange pineapple. A personal favorite is white chocolate raspberry truffle and Pocono paws. Nutter's has unbelievably low prices, which will make you want to turn a single scoop into a double, or a double scoop into a hot fudge brownie.
2 E Potomac St, Williamsport, MD 21795
Best for: Interior Design
Serves: Ice Cream from HP Hood (Winchester, VA)
5-minute walk from the towpath
Desert Rose Café and Sweet Shoppe sits on the corner of Potomac St. and Conococheague St., just up the street from the towpath. Its small store front opens up into a 1960s-esque diner. Seasonal flavors include black raspberry, butter pecan, and cherry vanilla, or you can get a snow cone, custom lollipop, or banana split (big enough to share). Don't forget your rewards card, because your tenth ice cream or specialty drink is free. If you are from out of town, make sure to pin your hometown on the map, where all 50 states are represented. Desert Rose also serves sandwiches, salads, and snacks, and makes cakes to order.
11 E. Main Street, Hancock, MD 21750
Best for: Games and surrey rides
Serves: Soft Serve Ice Cream
2-minute walk from the towpath and the Western Maryland Rail Trail
In the basement of Buddy Lou's, surrounded by antiques, you will find a soft serve machine. While the only flavors are chocolate and vanilla, you can add toppings, or make a float, a milkshake, or a blurry. Buddy Lou's is definitely dog friendly with free pup cups and lots of outdoor seating.
Hang out and play checkers, trivial pursuit, dominoes, or another game that catches your fancy. There are plenty of places to rent bikes near the canal, but have you ever rented a surrey? Buddy Lou's offers two and four-person surrey rentals to take on the rail trail.
17 Howard Street, Cumberland, Maryland 21502
Best for: Authentic pastries
Serves: Ice Cream from Garber's Ice Cream (Winchester, VA)
A few steps off the towpath, less than 500 ft from the end of the C&O Canal and the start of the Great Allegheny Passage trail
European Desserts and More is one of the shops at Canal Place, where the C&O, the GAP, and the Western Maryland Scenic Railroad meet. It offers six flavors of ice cream including black raspberry and cookies & crème. Its real specialty is handmade traditional desserts, like baklava, bee sting cake, and filo pastries. Follow the towpath south, and you will find a green field to eat your ice cream or other treats, and view "The Cumberland," a full-scale C&O Canal boat replica. This is the perfect place to treat yourself after your journey, or fuel up for the start of your trip.
These shops are all in Canal Towns, nine towns that line the C&O Canal. Learn more about the Canal Towns Partnership here and visit us on Facebook.