Life can be hectic, especially during the holidays. If you're still searching for last-minute gift ideas for that special someone, we can help. We've compiled a list of affordable items sure to please everyone.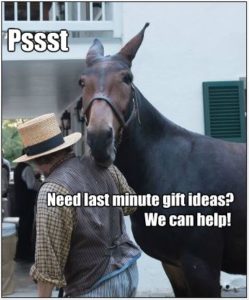 1. Canal Quarters Gift Certificates ($110.00 – $180.00) – With seven historic lockhouses to choose from, a gift certificate for an overnight stay at an award-winning Canal Quarters lockhouse will be a hit! Each lockhouse depicts a different time period of C&O Canal history, from the 1830s to the 1950s. Buy here.
2. C&O Canal Trust Calendars ($12.95) – These make a great gift for C&O Canal lovers who will enjoy the beauty of the C&O Canal National Historical Park every day of the year. The calendars display full-color photos taken in the Park or its surrounding Canal Towns by entrants in our monthly photo contest. Buy here.
3. C&O Canal Trust Magnets ($8.00) – These make the perfect stocking stuffer or Secret Santa gift. There are several designs to choose from, offering something for everyone at a great price. Buy here.
4. Trailbook – Official Guide to The C&O Canal and The Great Allegheny Passage ($10.00) – This affordable guidebook covers two scenic trails and is packed with trail descriptions, town history, maps with mileage charts and elevations, town amenities, and much more. It even has a waterproof map that's perfect for taking on your journey. Buy here.
5. C&O Canal Trust Online Gift Shop – In addition to the items mentioned above, the Trust also offers baseball caps, notecards, gorgeous photo books by Roy Sewall, and more. Visit our online Gift Shop today: https://www.canaltrust.org/gift-shop/
6. Shop in Small Businesses in Our Canal Towns – Slow down the hectic pace of the holidays and enjoy shopping and supporting the small businesses in our nine quaint Canal Towns. Located in the western end of the park, each offers unique shopping, dining, and holiday events that are sure to please. Learn more about our Canal Towns here: https://www.canaltrust.org/programs/canal-towns/
7. Visit the Park's Visitor Center Gift Shops – The C&O Canal National Historical Park Visitor Centers have a variety of items available for all ages, interests, and budgets. Stop in and browse this weekend.
*Great Falls Visitor Center – https://www.canaltrust.org/pyv/historic-great-falls-tavern/
*Cumberland Visitor Center – https://www.canaltrust.org/pyv/western-maryland-scenic-railroad-station-and-visitors-center/
Note: The Williamsport Visitor Center is closed for the season.
8. Make a Gift in Honor or Memory of a Loved One – Honor or memorialize a loved one with a gift to the C&O Canal Trust. As the official nonprofit partner to the C&O Canal National Historical Park, we work with the Park to help protect and preserve the Park for future generations. Make a gift today.
Best wishes for a joyful holiday season from everyone at the C&O Canal Trust!